Drop box: Reviews of Freelance Whales, Mika and Asylum Street Spankers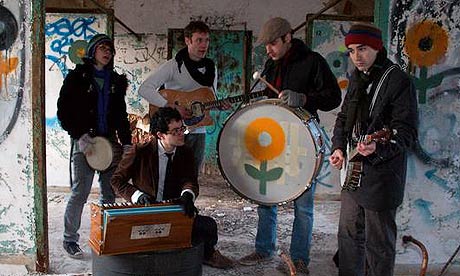 Freelance Whales channel Arcade Fire on debut album "weathervanes."
The new release schedule picks up steam soon, but this week's batch of CD reviews is the final installment of Lost Tracks, featuring overlooked albums from 2009. This time we've got Bill Friskics-Warren on "God's Favorite Band," the new one from old-timey musical pranksters Asylum Street Spankers; Allison Stewart on "weathervanes" by folk-pop blog buzz band Freelance Whales; and Joe Heim on Mika's pop masterpiece "The Boy Who Knew Too Much." There's also the first Singles File of 2010 with new tracks from Delphic, the Drums and Black Milk.
By David Malitz | January 5, 2010; 8:00 AM ET
Categories: Drop box | Tags: Asylum Street Spankers, Freelance Whales, Mika
Save & Share:
Previous: Future days: A visit from Grandmaster Flash, Kanye tells stories and Nick Jonas hits the late night circuit
Next: Morning click: Who you got in the Grammys, dawg?, Chili Peppers have a new guitarist
The comments to this entry are closed.