Album review: Sleigh Bells, "Treats"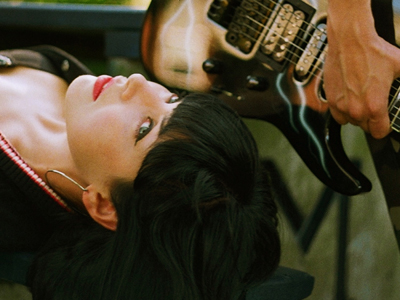 By Allison Stewart
A year ago, Sleigh Bells barely existed. And now, it's as if they'd always been here: Brooklyn's hottest band, and the Internet's noisiest meme. The duo's trajectory from first gig to blog stardom can be charted in weeks: Guitarist-producer Derek Miller (ex-member of the hard-core band Poison the Well) and singer Alexis Krauss played a few high-profile gigs, made a few widely circulated demos and in short order had inked a deal with M.I.A.'s N.E.E.T. label.
Their full-length debut, "Treats" (out digitally now, out physically on June 1) is jaw-dropping in every sense of the word. Cheerful hucksters who like it loud, Sleigh Bells are the opposite of, and the antidote to, depressive smarty-pants bands like the National. They appear to possess neither the slightest shred of seriousness nor any artistic aesthetic deeper than a love of robot noises.
Most Sleigh Bells songs are made up of the same elements, chopped up and reassembled in nominally different ways: lots of bass, siren sounds, things that sound like laser beams, other things that sound slightly less like laser beams, vintage metal riffs, whistles, errant Beach Boys melodies and such a reliance on sing-song girly vocals that Krauss's past life as a member of the girl pop outfit Rubyblue suddenly makes sense.
Miller and Krauss don't appear to know enough about what they're doing to be precious about doing it, although they surely must -- albums this offhanded don't happen by accident. "Treats" is artfully unarranged, rubbed-raw sounding and loud. Knobs are twirled past reasonable limits, are distorted, and everything sounds like it was assembled by a caffeinated sixth-grader with a bedroom four-track machine. "Treats" doesn't sound like a Sleigh Bells record, whatever that might sound like, it sounds like a Sleigh Bells record exploded and these shards of noise, played on blown-out speakers, were all that was left.
It's indebted to everything -- Toni Basil, Rick Rubin-era Beastie Boys, Crystal Castles, M.I.A. -- but it sounds like nothing else. It's party music that doesn't bear up to close listening -- deconstruct it too carefully and it'll disintegrate into a mass of confetti. But it's fun while it lasts: "Tell 'Em" is a riot of shredded guitars, nursery-rhyme vocals and Ms. Pac-Man-like effects that assaults and enthralls in equal measure; the gossamer-light "Rill Rill" treats its sample of Funkadelic's "Can You Get to That" with the reverence it deserves; "Infinity Guitars," all hand claps and "Hollaback Girl" vocals and early Van Halen riffage, sounds like the soundtrack to a roller derby.
For all its countless charms, "Treats" won't age well. When pop cultural hindsight kicks in, probably later this week, it will likely be remembered as 2010's greatest novelty record and most adorable blunt instrument, an effusive but already dated mix of distorto-rock and schoolyard pop as impressive as it is unrepeatable.
Recommended tracks: "Crown on the Ground," "Rill Rill," "Tell 'Em"
By David Malitz | May 18, 2010; 12:00 PM ET
Categories: Album reviews | Tags: Sleigh Bells
Save & Share:
Previous: Album review: LCD Soundsystem, "This Is Happening
Next: B-sides: Nas in the land of the Muppets
The comments to this entry are closed.