2011 - The year of Alabama music?
By Erin Williams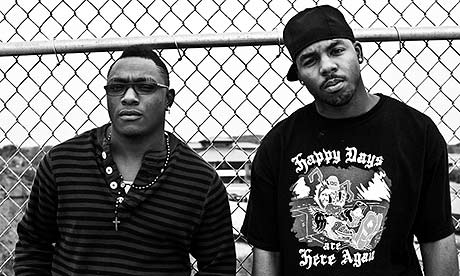 Rap duo G-Side are one of more than two-dozen acts featured in the Oxford American's Southern Music Issue. (Patrick Buckley)
Of all of the new music that has sprung up in 2011, the state of Alabama is looking like the next American hot spot. The Heart of Dixie is having a real moment, with exciting young voices arriving everywhere from Gadsden (rapper Yelawolf, whose album "Radioactive" drops next month) to Coffeeville (country singer Ashton Shepherd who's scheduled to perform at New York's CMA Songwriters Series in March).
The literary magazine The Oxford American has taken notice. Its twelfth-annual Southern Music Issue, focuses on sounds from – you guessed it – Alabama, profiling the state's great artists from the past and present.
Even having grown up in Alabama -- shout out to Anniston! -- my ears were opened to new sounds and the stories behind them. Among the artists featured in the issue: Old school country darling Rose Maddox who is remembered here for her song "New Mule Skinner Blues," 1970s funk act Black Haze Express (Anyone remember "Pretty Soon?"), and 21st century grassroots rap duo G-Side who speak on their Huntsville origins and their new album "The ONE… COHESIVE."
Songs by all three acts, (along with 24 other tracks), are featured on a CD that accompanies the issue. But only time will tell if the disc's newer talents will have the staying power of their Alabama pop ancestors, Nat King Cole, Emmylou Harris and Lionel Richie.
The Oxford American's Annual Southern Music issue can be found at area bookstores until the end of the month -- which means you have about 12 hours left. Go grab one on your lunch break.
By Erin Williams | February 28, 2011; 12:00 PM ET
Tags: Ashton Shepherd, Black Haze Express, G-Side, Rose Maddox, Yelawolf
Save & Share:
Previous: Local news: The Strokes to headline second annual Sweetlife Festival
Next: In concert: Wanda Jackson at 9:30 Club