Album review: G-Side, "The ONE ... COHESIVE"
By Chris Richards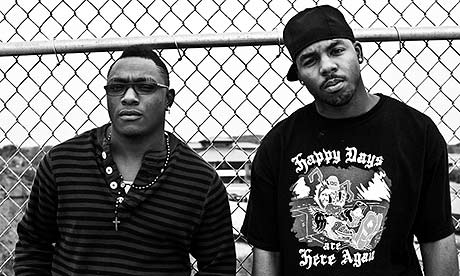 Alabama duo G-Side has made an album worth slowing down for. (Patrick Buckley)
Keeping up with rap music in the digital age can feel like an eating contest. We log onto YouTube and gorge ourselves on Souja Boy-size soundbites until we don't feel so good.
G-Side, an adventurous twosome from Huntsville, Ala., makes albums that are worth slowing down for. And while rappers ST 2 Lettaz and Yung Clova earned considerable buzz in yesterday's blogosphere, the duo's excellent new album practically got lost in the high-speed anarchy of today's. "The ONE . . . COHESIVE" dropped last month but has hardly made a ripple in the contemporary high-speed rapscape.
"Slow motion, better than no motion!" goes the duo's defiant credo during "How Far," a song that borrows its twinkling melodies from Baltimore indie-rockers Beach House. But unlike the recent crop of indie-jacking rap tunes, this one doesn't pander, falling right in step with G-Side's penchant for strange, glimmering, dreamlike beats.
As rappers, the pair has yet to scale the Olympus inhabited by Southern rap duos Clipse, UGK and OutKast - but they sound more comfortable in rap's margins. And be careful with those analogies. "So now the critics be comparing us to OutKast," ST grouses on "Inner Circle." "It's funny 'cause they treat us like some outcasts/Cast away to some rap game Alcatraz." It might be lonely at the top, but it's lonelier on the fringe.

By Chris Richards | February 11, 2011; 1:43 PM ET
Categories: Album reviews | Tags: G-Side
Save & Share:
Previous: Justin Bieber on the big screen
Next: In concert: David Allan Coe at Cancun Cantina