Album review: Mr. Collipark, "Can I Have the Club Back, Please?"
By Chris Richards
Mr. Collipark's leads a raunchy cast on his latest mixtape. (Courtesy of the artist)
Mr. Collipark wants to party like it's 2005. That's when the Atlanta-based hip-hop producer had the freaky-deakiest song on the radio with the Ying Yang Twinz's "Wait (The Whisper Song)," a club anthem that grafted super-creepy pickup lines to a strangely elegant crunk beat. Ah, the good old days.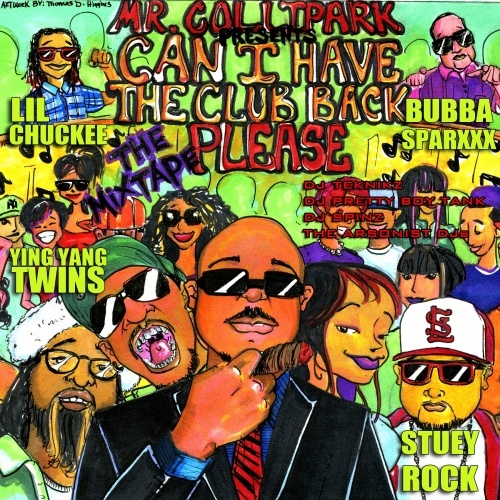 Six years later, Collipark is back with "Can I Have the Club Back, Please?" -- available for free download on ColliparkMusic.com -- and the beatsmith hasn't lost his nasty touch. The mixtape's title is the only thing polite about it. Drum machines pump, keyboards squeal and a slew of guest rappers leave their manners at the door, with Bubba Sparxx, Translee and the Ying Yang Twinz each doling out X-rated verses that would make 2 Live Crew blush.
The most riotous tracks will have you two-stepping until you break a sweat, but it's the lyrics that'll make you want to take a shower.
By Chris Richards | March 4, 2011; 12:55 PM ET
Categories: Album reviews | Tags: Mr. Collipark
Save & Share:
Previous: Courtney Love to pay $430,000 for defamatory tweet; Britney's new single leaks; Pitchfork festival announces initial lineup
Next: Kurt Vile's hazy rock becomes refined "Smoke Ring"